Cheeseburgers are a Lunch Dish that is cooked on the Grill Appliance.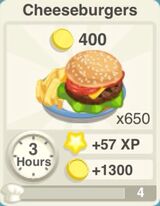 | Name: | Time: | Costs: | Coins Earned: | XP Earned: | Servings: |
| --- | --- | --- | --- | --- | --- |
| Cheeseburgers | 3 Hrs | 400 C | 1300 C | 57 | 650 |
Appearance
Edit
A grilled hamburger inside a Sesame seed bun with lettuce, cheese, and tomato condiments. The burger rests on top of a white plate with a light blue rim next to a side of fries.
The Cheeseburger is the "mascot" of the Restaurant Story games, in the same way that the Strawberry Cake is the mascot of Bakery Story. It is featured on the loading screen and in the App icon.
Ad blocker interference detected!
Wikia is a free-to-use site that makes money from advertising. We have a modified experience for viewers using ad blockers

Wikia is not accessible if you've made further modifications. Remove the custom ad blocker rule(s) and the page will load as expected.